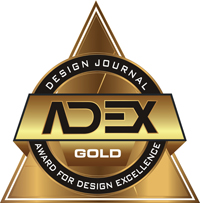 2014

installation. The driver is also easily accessible for future maintenance. Projected average rated life is 50,000 hours at 70% of lamp lumen output. The LEDs are compliant with LM 80 standards. Ambient temperature surrounding the fixture shall not exceed 122˚F (50˚C). The Raye G2 allows a 60% power reduction while delivering the same light output.


Raye G2 is available with four lumen outputs and is available in 80+CRI standard, while 90+ CRI is also available. Dimming is a standard option.

Raye's wireway housing is die formed 20 gauge prime cold rolled steel. The wireway is 17.15" in length for both the 18" and 72" fixtures. Wiring components and Drivers are mounted to a one piece back housing, permitting removal of the cover for ease of maintenance.

Raye G2 is designed to be surface mounted within an architectural cove for indirect illumination. For a uniform distribution (with no socket shadows) the light fixtures should be mounted end-to-end.

All fixtures are pre-wired and pre-assembled for easy installation.

Notes
•Suitable for cove and wall slot applications
•Patented acrylic optical assembly for precise, even beam control
•Five Kelvin temperatures of white light and 4 standard color options
•Rated life is 50,000 hours at 70% of lamp lumen output
•Four mounting options: cove 3"x3" and 2"x6" and wall slot 3"x3" and 2"x6"
•Fixtures can be lounted end-to-end to create uniform cove illumination
•Integrated 24v driver, fixed and dimmable outputs in 120v and 277v
•Power Consumption (w/ft): SO (3.5); HO (5.3); VHO (7); and V2HO (10.5)
•Anodized-aluminum finish is standard

Eaton
Eaton Lighting delivers an industry-leading portfolio of innovative lighting solutions for connected buildings, homes and communities, including reliable indoor and outdoor smart lighting and control solutions specifically designed to simplify and personalize lighting for consumers, help solve complex business challenges and leverage data insights to meet customers' unique needs. Eaton lighting solutions serve a wide range of customers, including architects, engineers, facility managers, municipal leaders, electrical distributors, and contractors in the commercial, industrial, retail, institutional, residential, utility and other markets. For more information, visit Eaton.com/lighting.