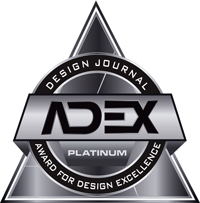 2019
It's versatility is key to it's success — terrazzo, whether styled in an understated monochromatic fashion or an en vogue pastel iteration, complements a variety of residential and commercial decor styles.
Although the history of terrazzo can be traced back to the ancient mosaics of Egypt, its predecessors date back 8,000 years to the Venetians. Fast forward to 2018 and Terrazzo has now been reinvented by Axolotl as a cementitious surface that is only 0.5mm thick and in any colour combination. Sheet sizes available are up to 2440 x 1220mm. Unlike a traditional terrazzo you can design way beyond shelf colours and create the perfect colours to fit your design.
Axolotl Terrazzo is not a laminate but thinly created colours bound in Axolotl Concrete and applied to any substrate. Each panel is made to order and can be used for counters, feature walls, lift interiors, bathrooms, cabinetry, splash backs and signage. Because of the unique properties of our terrazzo you can be released from the constraints a traditional solid surface imposes on design with the flexibility that comes with beauty of an Axolotl surface.
Sustainability
The quantity of raw materials required for 1 square metre of Axolotl Terrazzo coating is just 2% of raw materials required for the same surface area of solid terrazzo. This translates to a fraction of the carbon emissions of the production of solid terrazzo.
Axolotl has pushed the boundaries of design since our inception in 1995 when we pioneered the bonding of semi-precious metal onto any substrate.Over the past 20 years we have never rested in our quest to continue to amaze and inspire, taking architectural glass to new creative heights since 2005 and launching our concrete, timber and terracotta ranges of bonded surfaces from 2011.Committed to ever evolving, we are constantly developing the range of products we offer and introducing new technologies and new aesthetics that meet the increasingly diverse needs of our customers.The Axolotl name is synonymous with technological innovation and state-of-the-art design. We are at the forefront of our game and we are dedicated to providing the best quality and most innovative products for Australian and international markets.