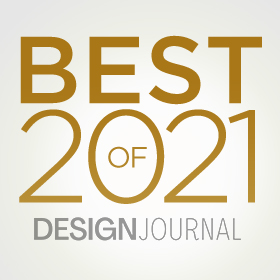 In 1903 Max Fabiani designed the Trgovski Dom, one of the first multifunctional buildings of the region which rapidly turned into a symbol of the city. The NŠK Slovene Library is now located in part of the ground floor and of the basement, implementing a new collective function in the building. The very large windows are acting as a communication tool withthe city daily life along the main street and the opposite park.
The 5,40 m. internal height allowed to insert a half floor detached from the facade to avoid conflicts with it. The library is designed as flanerie path spread on different levels for different activities, providing carefully designed spots for every different need, going from stimulation to dialogue below to more classically organized study areas on top.
A symbolic connection with the urbanistically dominant element of the building, the corner tower, is inserted in the half floor right next to the entrance.
Notes
NŠK LIBRARY Project: waltritsch a+u, Arch. Dimitri Waltritsch Team: Dimitri Waltritsch with Elena Formica, Teja Mržek Photo: Marco Covi, © waltritsch a+u Construction: Friulana costruzioni S.r.l., SZ Arredamenti S.n.c. Location: Corso Verdi 52, Gorizia, Italy
waltritsch a+u, architetti urbanisti is operating since year 2001 in Trieste. The office activity is spanning between architecture, interior design and urban planning. It offers professional skills, creative solutions and efficient professional services, in order to reach ultimate project quality in accordance to the client goal and ambition. Projects are approached mixing pragmatism with an optimistic stance, combining research and professional knowledge, to build specific and unique solutions as the best answer to the given task.
Among realized projects, the cultural and educational KBcenter in Gorizia, the urban plan Casanova for the extension of the city of Bolzano with 1.000 new homes and services, the Shanghai Jia Ding International Community Masterplan for an area of 100 ha, the provincial Media Library Casiraghi in Gorizia and the renovation of the Cogeco headquarters in Trieste.
waltritsch a+u has also been involved in a series of partnerships with renewed international offices for projects in Italy, including a long collaboration with Frits van Dongen / de Architecten Cie. from Amsterdam since the start, and have realized in partnerships plans and projects for the cities of Trieste, Roma and Bolzano.
Projects and buildings have been published in magazines and books in Italy, China, Germany, The Netherlands, Spain, France, Portugal, Slovenia, Croatia, Austria, Switzerland, Czech Republic, Korea, Singapore, Iran, Malaysia etc., and in more than 30 countries worldwide on the web. Works have also received several prizes and been exhibited throughout the world in many occasions (e.g. Columbia University New York, Berlage gallery Amsterdam, Biennale di Architettura Venezia and at the World Congress of Architecture UIA 2011 held in Tokyo).