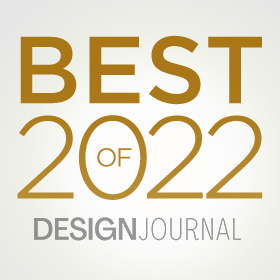 This stunning Florida-based project was designed by Enrique Crespo of Crespo Design Group.

From the entryway to the backyard, this 6 bed, 6 ½ bath permanent residence is swathed in chic, luxurious detail.
Pops of turquoise, chartreuse and pink can be found throughout this family home, especially within the study - One of our favorites spaces, as it is full of bright and stimulating textures and patterns, including the Thibaut Grasscloth Wallpaper and Schumacher Jokhang Tiger Velvet fabric on the Hickory swivel chair.
The Design Process
Enrique is known for his keen eye for funky, maximalist patterns and incorporating them into even the most unexpecting of spaces. Not to mention, the backyard oasis is designed to keep the entire family entertained year-round, equipped with a luxurious pool, lush surrounding greenery and plenty of room to dine al fresco with their loved ones.
Crespo Design Group is a full-service interior design firm headquartered in Tampa with a satellite office in Los Angeles. Enrique Crespo and his team of experienced design professionals work tirelessly and enthusiastically to create spectacular, one-of-a-kind spaces. Designing everything from the perfect entertainment home to a vacation home retreat, CDG takes care of every detail to ensure that the results exceed your dreams and the process is smoother than you hoped. The CDG approach is client-based. Our aim is to design spaces that celebrate your style and lifestyle. We excel at transforming interiors into functional artistic spaces where you feel energized, inspired and entirely at home. Many clients take advantage of our turnkey interior services, where every last detail is already arranged in the home and organized before you walk in. From armoires to end tables, from bed sheets to toothbrushes, it's all taken care of. The comfort, beauty and pleasure start the minute you move in.