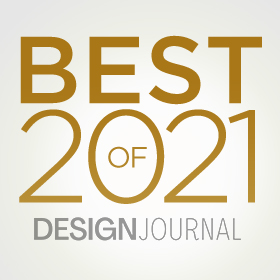 Carbon's rich gray color palette provides a contemporary color option with subtle shifts of light and dark tones to emphasize the enduring charm and texture of hand-formed bricks.
The saturated palette is ideal for designers, builders and other specifiers looking to incorporate the timeless character of brick in a variety of modern spaces.
In addition to the color tones present on each brick surface, the profile also utilizes contrasting grout lines to infuse spaces with a touch of drama and added visual interest.
Sustainability
We strive to meet today's building needs without compromising the future. Cultured Stone veneers are designed to not only beautify spaces but also take care of our shared environment along the way. To that end, our closed-loop recycling system allows us to reuse water during manufacturing, which proves especially important in California's drought-prone environment. This closed-loop system has reduced water consumption by 50 percent since 2006. Additionally, our Regrind & Reuse Program has reduced landfill waste by 80 percent per ton of product since 2009.Cultured Stone was the first manufacturer to be third-party validated for recycled content, and its stone veneer products are certified through UL Environment to have a minimum average recycled content of 58 percent pre-consumer stream material. In terms of sustainability and usage, Portland cement, which forms the foundation of our aggregate mixture, is one of the most inert building materials in use today.
Awards
2020 Architizer A+ Award Special Mention
Pricing
Varies by project, typically $6-8 per square foot.
Cultured Stone products originated in 1962 when brothers Garrett and Floyd Brown of Vallejo, California saw the need for a new kind of building material. The entrepreneurial pair of plasterers developed manufactured stone veneer-a concrete mixture cast in flexible molds and hand-colored with iron oxide pigments to resemble natural stone. Made of lightweight aggregate materials, the veneers were approximately one-quarter the weight of natural stone and easily adhered to most wall surfaces.
The Browns' small, regional company began selling to dealers in Northern California, but grew quickly as it added new products with broader geographic appeal. Soon, Cultured Stone products were distributed throughout the United States and Canada. Increased sales eventually established Cultured Stone as the undisputed brand leader and preferred name in the MSV category.
Sustained Excellence
We continue to refine our products and operations; to champion the environment; to provide builders and homeowners with the precision they've come to expect from us over the years. In fact, our trademark CSV® stamp still appears on every product that leaves our manufacturing facilities as a guarantee to our customers that they're receiving authentic Cultured Stone - the original stone veneer