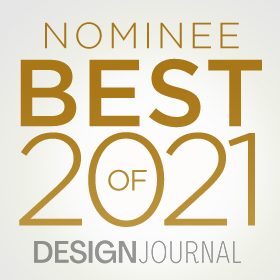 This 8-story mid-rise replaces a parking lot with a no-parking, high-density, mixed-use building convenient to transit and the Market Street corridor. The 113 homes for low-income and formerly homeless families are supported by on-site services, neighborhood retail, and flexible green space—a scarce resource in the area.

More than a decade in the making, the project overcame numerous bureaucratic and funding setbacks—including the 2008 recession and the demise of the local redevelopment agency—as well as multiple redesigns before completion in 2019.
Homes range from studio to three-bedroom and include 30 designated for formerly homeless families. As the central urban site lies in a district historically under-resourced for fresh food or open green space, the team dedicated ground-floor retail space plus roof space to augment the owner's urban agriculture program, provide a fresh produce market, and support local businesses.
Demarcated by a bright custom front door, the building welcomes residents and guests into an airy lobby with open sightlines to a vibrant green space and access to on-site services. The courtyard offers flexible seating and play zones and serves as a hub for community resources: a bike room, laundry, community room, and shared kitchen.
The contextual building both fits in and stands out in the neighborhood, with a warm variegated brick façade that references local masonry and dramatic corner notches that harmonize with the neighboring historic cornice lines.
LEED Platinum Certified, this innovative project is also one of the first certified ENERGY STAR Homes for Midrise Multifamily projects in California.
Sustainability
LEED Platinum, Energy Star Home Mid-Rise Multifamily certified, PV arrays, Rooftop urban farm, Solar hot water, Efficient how water distribution, Prominent bicycle storage, Optimized exterior sun-shading, Fresh produce market and local restaurant for underserved community, Day-lit offices and common rooms, Community connections
Awards
AIA California Residential Design Honor Award and Leading Edge Award
PCBC Gold Nugget Award
San Francisco Business Times Real Estate Deal of the Year