Rocket Mortgage Fieldhouse Arena, Cleveland, OH - Custom Metal Curtain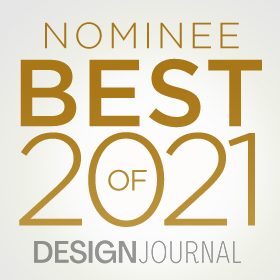 Gensler, Whiting Turner, Eventscape, and others joined forces to bring the bold vision of a sculptural steel curtain to life. Having undergone a $185M renovation, Rocket Mortgage FieldHouse, homecourt for the Cleveland Cavaliers, was transformed by the venue's new crown jewel, a 65,000 square foot metal architectural feature wall, lining the interior of a glass-enclosed atrium. Gensler took the initial concept of the architectural curtain wall and worked with Eventscape to develop and execute the design. The state-of-the-art sculptural metal wall features a dynamic, curvilinear shape that not only guides visitors within the venue along a clear and intuitive path but offers a link to the surrounding neighborhood and city at large. The 80-foot tall feature wall is made up of a total of approximately 4,000 unique metal panels, each with a 1-degree bend across the face and over 12,000 unique fabricated parts which come together in a faceted and reticulated geometric display. To manage the complexity of multiple parts, Eventscape designers employed a unique parametrically driven design and fabrication approach. They developed a computational script incorporating a set of rules to generate the design of each unique part, as well as rules for compatibility, orientation, and sizing. Using the initial data and inspiration from the design teams, Eventscape took measurements on-site, then developed a work-back schedule to ensure the installation sequence aligned with the construction of the exterior glass wall. The curtain wall was then installed in select zones, each zone preceding the construction of the glass atrium surround it. Eventscape ensured the project was completed on-time and on-budget without change orders or deficiencies.
Awards
Architect's Newspaper Best of Design Award for Digital Fabrication
Notes
Photography should be credited to Trepal Photography // Cleveland Cavaliers
At Novità, our passion for design and architecture drives the work that we do. While our strong relationships with editors at leading digital and print outlets allow us to excel at traditional public relations, we offer a full range of marketing and social media services through our New York and Milan offices. We are known for our creative energy, our proactive yet personal approach, and for bringing products and projects we truly believe in to the attention of designers, editors, influencers, and consumers.