Eaton's Dim-to-Warm Technology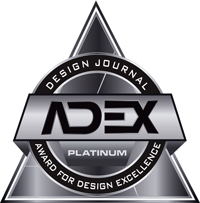 2017
Dimming LED products reduces the light output but doesn't change the color as it does when dimming standard incandescent sources and Eaton's D2W technology is designed to perform comparably to popular halogen sources, providing clean, crisp light at full power of 3000 Kelvins (K) and dimming smoothly to 1850K, which creates a rich, warm glow resembling candlelight.
Designed for architectural commercial environments, the D2W technology is available as an option for the Portfolio 4-inch and 6-inch round and square LED downlights and the 6-inch LED cylinder. The products are offered in 900 to 2000 lumen packages and provide a 90 Color Rendering Index (CRI) throughout the dimming range. The Portfolio award-winning products feature a diffused optical system that provides superior light control and low aperture brightness, while delivering more than 70 lumens per watt (lm/W). The products are designed to last 50,000 hours at 70 percent lumen maintenance.
Eaton's D2W technology is also available as an option for the Halo ML56 LED product line that offers multiple lumen packages and color temperatures that are interchangeable with dedicated 5-inch and 6-inch downlight and directional trims. Designed for commercial and residential applications, the technology also maintains a 90 CRI, delivering over 70 lm/W and is designed to last 50,000 hours. The extensive collection of 26 trims features industry breakthroughs, including Halo-exclusive wall wash trims with a repositionable kick reflector and shower-rated baffles.
Eaton's LED products are offered in four color temperatures including 2700K, 3000K, 3500K and 4000K to satisfy the different needs of single and multi-family dwellings, hospitality, retail, office and institutional spaces.
Eaton's noted products are ENERGY STAR® certified, offering solutions for energy-efficient and sustainable goals.
Sustainability
Advanced LED Technology
Awards
TecHome Brilliance Award 2016 (Halo ML56 with D2W); IES Progress Report Acceptance (Portfolio LED Downlight with D2W); Next Generation Luminaires Indoor Competition - Outstanding Recognition (Portfolio LED Downlight w D2W)
Eaton
Eaton Lighting delivers an industry-leading portfolio of innovative lighting solutions for connected buildings, homes and communities, including reliable indoor and outdoor smart lighting and control solutions specifically designed to simplify and personalize lighting for consumers, help solve complex business challenges and leverage data insights to meet customers' unique needs. Eaton lighting solutions serve a wide range of customers, including architects, engineers, facility managers, municipal leaders, electrical distributors, and contractors in the commercial, industrial, retail, institutional, residential, utility and other markets. For more information, visit Eaton.com/lighting.