Neo-Ray Series 22 and 23 DIP and DIW LED Luminaires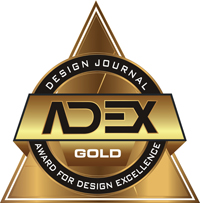 2015
Designed from the inside out, the series elegantly synthesizes premium materials with industry leading technology. Utilizing precision optics with the highest quality reflective materials, the luminaires provide unmatched performance in an elegant, fully extruded profile. The Straight & Narrow luminaires allow easy access from below the plenum, requiring only standard tools for maintenance. Compatible with nearly every ceiling type in recessed, pendant and surface mount, the products provide exceptional design flexibility with industry leading performance.
Sustainability
LED technology
Notes
-Extruded aluminum housing in 2', 3', 4', 6' or 8' illuminated sections
-High transmisson and opal lens options in lay in and snap in shapes
-Durable, low-gloss, white, powder-coated acrylic finish
-Individual fixtures or run configurations
-Two LED light levels
-Available in three CCT options: 3000K, 3500K and 4000K
-120-277 voltage electronic driver certified to UL and CUL standards
-Standard 0-10V continuous dimming driver
-L70 at 50,000 hours with 5-year warranty

Eaton
Eaton Lighting delivers an industry-leading portfolio of innovative lighting solutions for connected buildings, homes and communities, including reliable indoor and outdoor smart lighting and control solutions specifically designed to simplify and personalize lighting for consumers, help solve complex business challenges and leverage data insights to meet customers' unique needs. Eaton lighting solutions serve a wide range of customers, including architects, engineers, facility managers, municipal leaders, electrical distributors, and contractors in the commercial, industrial, retail, institutional, residential, utility and other markets. For more information, visit Eaton.com/lighting.