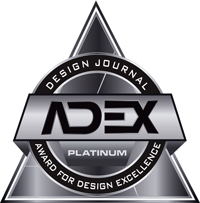 2020


This innovative design set in a wave suggests movement when viewed from various angles for a gracious statement over a long table or as room dividers when displayed in multiples at upscale establishments.

The powered aircraft cables provide an ultra-clean look for adjustable suspension height.

The LED luminaire dims down beautifully using an ELV, TRIAC or 0-10 Volt dimmer.
Offered with a 3000K CCT (correlated color temperature), 50,000 hour rated LED life, and a 90 CRI (color rendition index), Aretha operates with a universal driver (120V-277V) concealed within the canopy. Aretha delivers 1815 lumens.
The 31-watt LED luminaire has a width of 16 ¾ inches, a height of 9 ½ inches, and a 44 ¾ inch length.