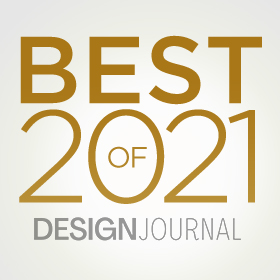 Part of Only Good Things' Spring collection of residential and outdoor furnishings, the Sir Burly Stool playfully bends traditional bar stools with its chubby powder-coated steel legs, rounded silhouette, and one-inch solid white oak seat. Available in three color variations (black & white oak, grey-white & white oak, and black) and two height variations (counter- and bar-height), Sir Burly brings joy and movement into any residential space. Designed in collaboration with Australian studio, Dowel Jones, Sir Burly combines Only Good Things' quality craftsmanship with the emerging studio's playful, tongue-in-cheek silhouettes. Inspired by classic playground structures, Sir Burly reinterprets the rounded corners and sleek surfaces as a sophisticated seat. Grounded in shared values in sustainability (the stool's white oak seat is made with harvested wood from northeastern American forests) and cheerful design, Sir Burly marks the second collaboration between the two companies.
Originally manufactured by Only Good Things' sister company, Grand Rapids Chair Co. for shared spaces, Sir Burly is made with commercial-grade durability. Refashioned for residential settings, Sir Burly maintains its durable exterior while its soft, rounded shape naturally fits into kitchens, dining rooms, and more. Designed with powder-coated steel legs, the stool is incredibly strong and easily cleanable. Sir Burly is an attainable statement piece at $490 per stool that bridges the gap between quality and affordability.
While many residential furnishings can feel stuffy or formal, Only Good Things aims to bring a sense of joy to homes. Every piece of furniture is made with durable materials, so they're designed to be sat on, dined on, and loved. All of the brand's products are also built and/or finished in Grand Rapids Chair Co.'s factory, which enables quick shipping within two-to-four weeks. Unlike many competitors who build their products overseas, Only Good Things combines domestic sourcing and manufacturing to offer customers quality pieces in a timely manner. Since Only Good Things' products are made in the Grand Rapids factory, the design team can also accommodate custom finishes, including fabric, powder coat, and stains, for residential interior designers.
Sustainability
The Sir Burly Stool's white oak seat is made with harvested wood from northeastern American forests.