ASPECTA TEN by Metroflor Corporation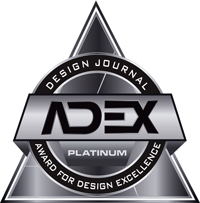 2016
ASPECTA TEN was also created for those architects and designers who desire a product that can be installed directly over most subfloors and thereby minimize the extra cost and downtime for typical gluedown floors, as well as avoiding the floor-preparation that often may be required in remodeling situations.
With 20 planks and 10 tiles, the designs span dramatic dark wood tones, rich urban concrete, and unique time-enhanced leather: stunning flooring options for a wide spectrum of contract specifications, designed specifically for retail, hospitality, restaurant, healthcare and corporate spaces. The latest in-register embossing techniques deliver a more authentic look.
Beyond good looks, ASPECTA TEN's 28 Mil commercial wear layer offers durable protection from abrasions, scuffs, chips and indentations that plague real wood and stone surfaces.
Awards
Nightingale Awards healthcare 2015
Pricing
MSRP: $6.49 sq. ft.

Notes
Unique attributes to this category of product include:
¥ 100% Waterproof
¥ Floor Score Certified
¥ Strong, rigid and dimensionally stable
¥ Installs over existing hard surface floors including ceramic tile
¥ Hides telegraphing from minor subfloor imperfections
¥ Ultra Fresh Treatment on the surface and integrated within the attached underlayment