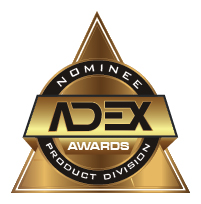 Verçade provides limitless design possibilities for a wide range of commercial installations. Lightweight, durable and high-performing Vercade is also easy to clean and maintain with fast installation and little downtime. Verçade is a perfect marriage of form and function in wall fashion.
Verçade answers the call for three-dimensional, ultra-textured wall products, which are becoming an important design consideration for commercial settings. Designers looking for ways to embellish the wall beyond contract wall coverings can look no further than Verçade, available at a budget-friendly price point compared to other decorative wall treatments.
Applications for Verçade include retail, hospitality, corporate and multi-family market segments.
Retail: Spot locations such as covering hallways to restrooms or pass-throughs from one seating area to another; making an accent wall a point of destination; or for moveable display walls in men's and women's clothing areas and in dressing rooms
Hospitality: Wayfinding and accent walls in lobbies and other public areas; dramatic full-room or feature/statement walls, wainscoting and headboards in guest rooms
Corporate: Evoke a more casual Millennial-friendly residential feeling; define and enhance pop-up meeting/collaboration zones or evoke refuge in "solitude areas"
Multi-family/Builder: Statement walls; headboards; kitchen backsplashes, islands and peninsulas
Myriad patterns can be achieved with Verçade in both horizontal and vertical formats. Tiles can be installed in Bricklaid, Diagonal, Basketweave and Corner to Corner (horizontal and vertical) motifs, and planks in Ashlar (Horizontal and Vertical), Diagonal, Single & Double Herringbone and more. A pillowed edge detail lends a natural, realistic look and feel to each product and helps minimize the effects of imperfections in the wall.
The Verçade palette is neutral yet versatile, intended to work with a wide range of interior commercial paint colors so it becomes an accent with a long life that works well in any commercial setting. Complement dramatic statement walls with low-key surrounding paint colors, or go bold in paint and create a color-blocking effect with a more neutral Verçade pattern for a calming interior.
By using a proven vinyl surface layer over a high performance lightweight rigid composite core, rather than being constrained by the limits of natural hardwood, Verçade can achieve wider design, color and texture variation. From a performance standpoint, Verçade is not subject to the cupping, checking or cracking that can happen with natural wood planks. It can also mask some wall imperfections, reducing the need for wall prep.
INSTALLATION
Verçade is easily installed with roll-on adhesive, as if painting the wall, or double-stick adhesive tape. A full range of matching trim pieces are available for Inside and Outside Corners, End Cap, and Chair Rail. For those wishing to eliminate the need for Inside or Outside Corner transitions, Verçade can transition outside and inside corners without the need for additional trim pieces, creating a clean and finished look. (This is an advanced installation technique for which Verçade recommends professional installation.) Verçade is only approved for dry wall installations where surface temperature does not exceed 90°F and should not be installed on wet-wall application areas such as shower and tub walls. Using Verçade-approved adhesives or tape is recommended for optimal installation results.
Sustainability
Verçade is not just the name of a product, but the essence of revolution in wall fashion. As the leader in sustainability and transparency, the company is engaging in collaborative partnerships that result in healthy, high-performing and biophilically-designed products. Verçade products are tested to the latest standards for Volatile Organic Compounds (VOCs), formaldehyde, phthalates, and heavy metals (including mercury and lead). In fact, the standards used for the testing of phthalates and heavy metals in Verçade are the same standards used for the testing of children's toys, setting a very high bar, which Verçade has surpassed.

Vercade has issued a Declare label, a nutrition label for building products, and an Environmental Data Sheet listing all ingredients. Its manufacturing facility has received a JUST Social Justice Label.

Notes
Verçade Wall Fashion features an incredible range of beautiful 6"x 48" planks and 12" x 24" tiles to create custom, one-of-a-kind looks for a multitude of commercial applications in virtually any sprinklered interior (as referenced by the International Building Code). Verçade Wall Fashions are protected by a durable ceramic bead finish and Ultra-Fresh treatment to inhibit the growth of mold and mildew. With a 4.8 mm gauge, Verçade is covered by a Limited Lifetime Warranty.