Broan and NuTone LED Recessed Fan/Light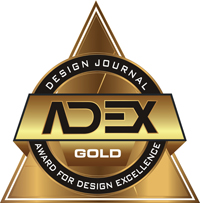 2014


LED lighting was incorporated into this product because it is ideally suited for recessed lighting as it is inherently unidirectional. Additionally LED is becoming increasingly popular in today's homes because of efficiency, longevity and quality; and is being sought out by green builders, architects, designers, installers and energy-conscious homeowners to make a statement. The LED bulb contains no mercury, looks just like incandescent or CFL bulbs, and will last 25,000 hours or about 3 – 8 times longer than typical CFL bulbs. With normal usage the LED bulb will last up to 50 years without needing to be replaced. A further benefit of LEDs is their ability to offer greater dimming capability when paired with the appropriate dimming switch; LEDs also fully illuminate instantly while CFL bulbs take time to reach full illumination.

There is no other product on the market today like the ENERGY STAR qualified LED Recessed Fan/Light from Broan and NuTone. Integrating an extremely efficient and long-lasting LED recessed light and a ventilation fan into a singular product alleviates the need for two separate installations, saving both installation time and product cost. The unique inlet of the product has been designed to effectively camouflage a quiet ventilation fan and the bezel trim is designed to match the most popular white equivalents on the market today. When this product is installed in a room with most any other equivalently-sized recessed lights, it blends in seamlessly to give the impression of a typical recessed light; all the while disguising a ventilation fan. When ventilation is desired in any room of the home, one or more recessed lights can be replaced with the LED Recessed Fan/Light. The neutral design of the product allows the room's aesthetics to shine, offers an alternative to obtrusive fan/lights to maintain a clean ceiling appearance, and is an innovative solution to the challenges of integrating necessary ventilation discreetly into a room. The LED Recessed Fan/Light is an ideal ventilation lighting solution in other areas of the home, where more traditional fan/light grilles may be visually obtrusive such as media rooms, utility/laundry rooms, craft rooms, closets, and in kitchens over sinks and countertop areas to keep the air fresh and comfortable.

The LED Recessed Fan/Light is designed for easy installation by incorporating adjustable mounting brackets that can span up to 24" and fit within 2" x 8" construction. A polymeric 4" round duct connector is provided for quick connection of ductwork. The motor is permanently lubricated to reduce servicing. The motor and wheel can be serviced from below through the opening for the light baffle. It is UL Listed for use over a tub or shower when installed to a GFCI protected branch circuit.

Broan-NuTone LLC
In the midst of the Great Depression, two aggressive young men emerged with two new products that would make major contributions to the housing industry. In 1932, Henry Broan developed and manufactured a kitchen fan called the Motordor® Fan that provided quiet and efficient kitchen ventilation. His creation launched what is today known as Broan-NuTone LLC. Four years later, in 1936, J. Ralph Corbett developed a melodious door chime replacing the obnoxious door buzzer of the time. His development launched what is today known as NuTone, Inc. Both men, headquartered in the Midwest, started their companies with a simple product and a few employees. Each expanded their companies, creating revolutionary new products that provided unmatched conveniences for homeowners nationwide. Both companies quickly became global competitors and continued to provide innovative, superior products to meet the needs of consumers. In 1981, Broan Mfg. Co., Inc. was acquired by Nortek, Inc. and became the lead company of Nortek's Residential Building Products Group, which was named the Broan Group. During this same time period, NuTone was sold to Scovill Manufacturing in 1967 and was then acquired by Williams plc in 1991. In 1998, Nortek acquired NuTone, adding it to the Broan Group and renaming the group the Broan-NuTone Group. Then, in January 2000, Broan Mfg. Co., Inc. became Broan-NuTone LLC. Today, Broan-NuTone LLC leads the industry with forward-thinking residential ventilation products, customized climate, communications and storage solutions and superior customer service. Broan-NuTone is proud to acknowledge that over 80% of homeowners in the United States rely on one or more BROAN®, NuTone®, or BEST® products every day to provide them with superior indoor air quality and lifestyle conveniences. Headquartered in Hartford, Wisconsin, Broan-NuTone employs 2,600 people in eight countries on five continents. Other manufacturing, marketing and sales locations include Ohio, California, Canada, Italy, Chile, Australia, Poland, China and Mexico. Broan-NuTone's inspiring heritage provides the foundation for its three global brands – BROAN®, NuTone® and BEST®. BROAN® is the industry leader of range hoods, ventilation fans, heater/fan/light combination units, Indoor Air Quality (IAQ) Fresh Air Systems, built-in heaters, whole-house fans, attic ventilators and trash compactors. NuTone® holds major market positions in door chimes, central vacuum systems, stereo intercom systems, ironing centers, ceiling fans and ventilation fans. BEST® range hoods are the "Ultimate in Kitchen Ventilation" featuring state-of-the-art performance and Italian design. Broan-NuTone is committed to developing revolutionary products that improve the indoor environment as well as implementing procedures to preserve the outdoor environment. Broan-NuTone offers a wide selection of products that help meet the requirements of all three major green building programs: ENERGY STAR®; U.S. Green Building Council's (USGBC) Leadership in Energy and Environmental Design (LEED) for Homes; and the National Association of Home Builder's (NAHB) Model Green Home Building Guidelines. For more information, please visit www.BROAN.com, www.NuTone.com and www.BESTrangehoods.com.