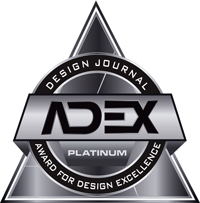 2011
Awards
Winner of the prestigious international red dot award for "best of the best" product design 2006. Winner of the GOOD DESIGN 2006 award of the International Industrial and Graphic Design Awards organized by The Chicago Athenaeum: Museum of Architecture and Design.
Pricing
$4280 (shown), Long bench $4780
Notes
Now available in the US and Canada. The Wittus Shaker Wood Stove comes in matte black steel and is available in two versions. The standard model features a short bench and measures 41" high, 34" wide, and 21" deep. The Shaker also has an extra-long version with a bench that measures 6 feet and can be used for cozy fireside seating. Choice of left or right side loading door. The Shaker is produced in Germany and was design by Antonio Citterio with Toan Nguyen. Antonio Citterio is one of the most renowned designers in Europe. He claims the secret of his success is his commitment to truth and individuality. "I design objects for myself, and not in response to the recommendation of the market. If I didn't want to surround myself with my designs, then they wouldn't exist." Specifications: EPA Certified, UL and ULC approved Size 41" high, 34" wide, and 21" deep Firebox 14" high, 16" wide, and 12" deep Weight 250 lb Optimal Heat Output 20,000 BTU Heat Output Range 10,000 – 23,000 BTU
Nothing can compare to a love of home and hearth and for the past 30 years Niels Wittus has nurtured his company, believing in the products, quality, the beauty and joy these stoves and fireplaces bring to American households. The essential ingredients are: artistry, technology, and environment. Artistry — Produced in Europe, the award-winning fireplaces and stoves combine the most up-to-date automated manufacturing techniques with old world hand craftsmanship. Unique and original, they are a revolutionized Fire by Design. Top quality steel, special custom glazed ceramic, and fine Tulikivi soapstone are used in construction. The finished products are made to serve beautifully – year after year after year. Technology — Behind their beauty lies sophisticated, advanced burning systems which have set new standards in the field of wood and gas burning. The wood stoves burn cleanly and efficiently with adjustable air controls. Many can even be operated by remote control. The gas stoves, also with full remote control capabilities, utilize the latest in valves and clean-burn technology. Most Wittus products are manufactured according to strict ISO quality standards. Environment — Wittus fireplaces and stoves have been tested and meet stringent US and Canadian standards for wood and gas burning models. The wood burning stoves are EPA certified and are environmentally clean burning. Cozy flames, functional modern fashion, ecological responsibility. That's Wittus — Fire by Design.