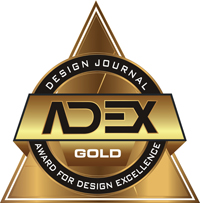 2011

Constructed of MTI's proprietary Engineered Solid Stone™. Both the material and the fabrication process offer great flexibility in designing and manufacturing products with very soft, fluid lines or with precise geometric angles.
Sustainability
MTI's Boutique Collection products are constructed using MTI's proprietary Engineered Solid Stone™ (ESS) material, which is a mixture of ground natural minerals and binding agents that are liquefied, poured and then hardened. Approximately 65% of the material is organic, including minerals mined from the earth, making it quite "Green".
Pricing
Pricing available from MTI distributors. See MTI Dealer Locator for contact information for a dealer convenient to you.
Notes
Designed by Russell Adams, the Elena tub can be built and shipped within 10 business days.
MTI Baths
Since 1988, MTI has earned a reputation for impeccable quality, innovation, unique customization for air baths, whirlpools and soaking baths in over a 150 models in a variety of colors with endless options. MTI offers a line of sinks, shower bases, glass enclosures and bath furniture. Design Expertise. MTI has an in-house design team that is experienced in working with world-class architects, designers, developers and hotel chains to develop top-quality bath products based on the requirements of the project. Proudly Made in the USA. mtibaths.com