Applaud Recognition Displays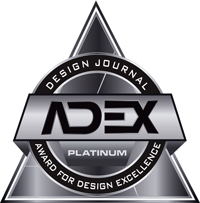 2018
Sustainability
Applaud is as environmentally sustainable as the materials and finishes specified for the specific installation.

Takeform champions environmental awareness and continually looks for new ways to reduce, reuse or recycle resources. We create products made from environmentally responsible materials. For example, components of our printed acrylic signage are made from 65% post industrial waste. And, at the end of its useful life, is 100% recyclable.

All our products and processes are designed with a heightened sense of environmental responsibility. Our manufacturing facility incorporates low waste, low emission methodology. Many of the materials are Green Guard approved. Takeform recycles scrap materials resulting from the manufacturing process. Naturally occurring, durable materials such aluminum, glass and a range of solid surfaces are also key elements of the product's palette.
Awards
Best of NeoCon Silver Award
Pricing
Pricing is commensurate on finishes and mounting option chosen.
Takeform
Branding Space. Moving people.

The synergy between your brand and space has inspired us since we introduced our first industry innovation in 2003. Today, our design DNA continually drives us to push the boundaries of your brand's potential in the built environment.

We'll help you make a lasting impression. Start with wayfinding – our practitioners will help you greet each visitor and guide them to their destination in a visual voice uniquely yours – welcoming and on brand. Once there, immerse them in a sophisticated visual experience of who you are. You'll start the conversation and foster a relationship before the first handshake and every moment after.

Our people, process and products are focused on enabling you to tell your brand story – eloquently and effortlessly. From design and manufacturing through installation and ownership services – we are fully integrated to assure you a streamline process and optimal outcome.

We believe unifying brand and space has the power to move people.