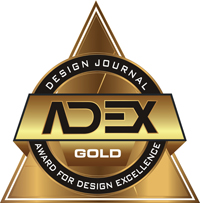 2018
Sustainability
Continuum is crafted of MTI Bath's proprietary
SculptureStone™, which is a mixture of ground
natural minerals and high-performance resins. The mixture itself is approximately 65% organic. And the construction is 100% solid to stand the test of time. Since the material is so earth-friendly and the countertop is being re-purposed instead of
discarded into a landfill, the sink is eco-friendly.

MTI Baths
Since 1988, MTI has earned a reputation for impeccable quality, innovation, unique customization for air baths, whirlpools and soaking baths in over a 150 models in a variety of colors with endless options. MTI offers a line of sinks, shower bases, glass enclosures and bath furniture. Design Expertise. MTI has an in-house design team that is experienced in working with world-class architects, designers, developers and hotel chains to develop top-quality bath products based on the requirements of the project. Proudly Made in the USA. mtibaths.com