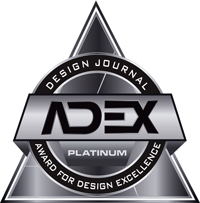 2017
Port Washington, N.Y. — A clearly defined orb gently encircles a cylinder of cool glass. The new Lucid is a clean and updated LED version of the traditional lantern.
The sconceis available for cohesive specifications throughout upscale residential or hospitality commercial settings.
Wet location IP65 and ETL/cTL rated, Lucid reveals clear and etched opal glass complemented with a black finished structural frame.
About Modern Forms
Engineered to the finest detail for unsurpassed performance and design sophistication, Modern Forms was established as a future forward manufacturer and innovative brand of unique upscale all-LED luminaires. Founded as an independent subsidiary of WAC Lighting, Modern Forms took North America by storm in the last five years with avant-garde designs that leverage LED technology developed exclusively by WAC engineering.
Modern Forms offers a vast presentation that achieves superior illumination from clean upscale forms only made possible with proprietary LED technology. Premium powder coat and plated finishes, marine grade stainless steel constructed designs, gold and silver leafing, and exclusively developed glass and crystal techniques are just a few of the features that speak to discriminating specifiers.
Modern Forms can be reached at 1.800.526.2588 or by visiting www.modernforms.com.
#
Sustainability
Uses LED source for energy savings, reduced maintenance and long lamp life.
Notes
Lucid interior and exterior LED wall sconce unveiled by Modern Forms, a WAC Lighting company
Port Washington, N.Y. — A clearly defined orb gently encircles a cylinder of cool glass. The new Lucid is a clean and updated LED version of the traditional lantern.
The sconceis available for cohesive specifications throughout upscale residential or hospitality commercial settings.
Wet location IP65 and ETL/cTL rated, Lucid reveals clear and etched opal glass complemented with a black finished structural frame.
About Modern Forms
Engineered to the finest detail for unsurpassed performance and design sophistication, Modern Forms was established as a future forward manufacturer and innovative brand of unique upscale all-LED luminaires. Founded as an independent subsidiary of WAC Lighting, Modern Forms took North America by storm in the last five years with avant-garde designs that leverage LED technology developed exclusively by WAC engineering.
Modern Forms offers a vast presentation that achieves superior illumination from clean upscale forms only made possible with proprietary LED technology. Premium powder coat and plated finishes, marine grade stainless steel constructed designs, gold and silver leafing, and exclusively developed glass and crystal techniques are just a few of the features that speak to discriminating specifiers.
Modern Forms can be reached at 1.800.526.2588 or by visiting www.modernforms.com.
#