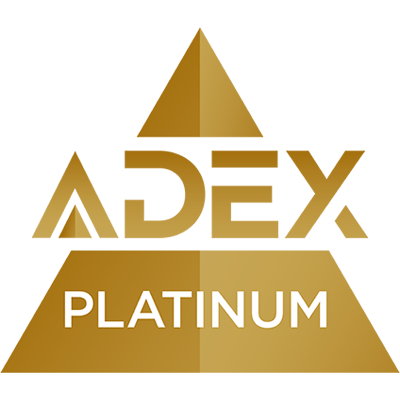 2015
Tarkett, the worldwide leader in innovative and sustainable flooring and sports surface solutions, has delivered the natural look of brushed aluminum, hand-troweled concrete and hand-tooled leather to the Johnsonite rubber flooring collection with the introduction of three new textured finishes. Ideal for the hospitality and corporate segments, the Brushed, Concrete and Leather textures offer the market true, natural finishes by bringing rich colors and mineral looks to rubber flooring.
Sustainability
Brushed, Concrete and Leather are made in the USA in an ISO 9001 and ISO 14001 certified plant, assuring quality and a positive environmental impact. Textured rubber's durability and reduced maintenance schedule diminish the impact on the environment by using less water, chemicals and energy for maintenance. Rubber is also recyclable.
Notes
Design and Development
The result of countless hours of research and development, the new rubber textures capture the authentic essence of brushed metallic, hand-troweled concrete and tooled leather surfaces. These new textures were achieved through complex etchings created from hand-drawn files. The tiles offer the market true, natural finishes, bringing rich colors and mineral looks to rubber flooring.
"When you are creating something like this, it is a work of art," said Lee Eisinger, President, Akron Metal Etching. "Architects and designers expert a certain texture and appearance from the floor, but hey want to make sure it's subtle enough not to take over the rest of the space. That is what Johnsonite was able to accomplish with these new textures."
Available in both 12" X 12" and 24" X 24" sizes, the rubber textures allow for design continuity with popular embossing or surface treatments found in other types of flooring, as well as a wide range of interior finishes and products. The replication of metallic and other mineral creates textures that bring uniqueness to every tile. The new options maintain a unique, luxurious appearance while providing slip resistance, shock absorbing qualities and natural acoustic properties.
Performance and Maintenance
The new textures, like all Johnsonite rubber flooring, provide extreme durability and a "no finish required" maintenance schedule for low-cost upkeep. To improve the cleaning process, design changes ensured that every facet of the
tile surface was rounded, guaranteeing minimal debris collection in the textures.
With a history spanning over 140 years, Tarkett is a worldwide leader in innovative flooring and sports surface solutions, with net sales of more than €3 billion in 2019. Offering a wide range of products including vinyl, linoleum, rubber, carpet, wood and laminate flooring, artificial turf and athletics tracks, the Group serves customers in over 100 countries across the globe. Tarkett has 12,500 employees and 33 industrial sites, and sells 1.3 million square meters of flooring every day, for hospitals, schools, housing, hotels, offices, stores and sports fields. Committed to changing the game with circular economy, the Group has implemented an eco-innovation strategy based on Cradle to Cradle® principles, with the ultimate goal of contributing to people's health and wellbeing, and preserving natural capital. Tarkett is listed on Euronext Paris (compartment B, ISIN: FR0004188670, ticker: TKTT) and is included in the following indices: SBF 120 and CAC Mid 60 indexes.