Aspecta One Ornamental by Metroflor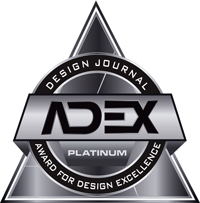 2018
Evoking ancient cultures such as Oriental, Arabic and sub-Saharan, or architecture styles like Art Nouveau and Rococo, the Aspecta One Ornamentals create a welcome contrast to the clear design language of modern architecture and interiors. These overprint styles can be layered randomly on select Aspecta One plank and tile designs or all-over for a more dramatic effect.
The Aspecta One Ornamental collection is ideal for such commercial settings as Hospitality, Retail, Corporate and common areas of Healthcare, with all the benefits that only LVT provides: stunning design and embossings, coupled with easy care and maintenance.
The range reflects Metroflor's immersion in Biophilic Design as an influence in the creation of its ever-evolving product lines. The philosophy stems from the notion of Biophilia: humankind's innate connection with the natural world. Biophilia explains why certain natural occurrences captivate us, enhance our creativity or provide restorative effects. When applied to the built environment, Biophilia also defines aspects of nature that most impact and advance occupants' health, fitness, and wellbeing. Said Robert Langstaff, Metroflor's Director of Design, "Biophilic design establishes a new framework for satisfying the need to experience nature in the built environment. At Metroflor, we are applying many of its principles to extend our design vision and capability within LVT."
Here are the Aspecta One Ornamental motifs:
DAMASK
Inspired by heirloom Persian rugs handed down generation to generation, and the emerging "Rough Luxe" distressed motif found in specialty woven carpet, Damask delivers this high-end look in affordable LVT. Said Langstaff, "Damask takes us back in time with its layered richness and the reassurance of time-worn things, like a vintage Persian carpet or scattered old paint worn down." BIOPHILIC DESIGN INSPIRATION: Botanical motifs, Integration of Place and Culture, Attraction and Beauty.
Damask can be overprinted on select Aspecta One Midtown tiles and woodgrain planks (Shipwright, Alpine Ridge, and Washed Wood).
MASQUERADE
Inspired by boisterous ceramic tiles, Masquerade's large medallion-like design translates well in large tile formats, combining modern concrete embossing and unicolors, which embrace each other in a refreshing, surprising way. With either a colorful or neutral base, Masquerade appears as either a positive version for a "painted" impression or a negative overprint on tile that creates the hard-edge effect of carving. Its unpredictability in shape and application is refreshing. BIOPHILIC DESIGN INSPIRATION: Biomorphic Shape, Integration of Parts to Wholes, Curiosity and Enticement.
Masquerade is available on 6 neutral Midtown and 6 primary-colored Midtown Prism floors in the large-scale, 24" x 24" tiles.
MALTA
This abstract, Arabesque motif complements Aspecta One 4-ft. woodgrain planks with a Moorish influence found in Southern Europe. Malta works well with vintage, Mid-Century and contemporary interiors. BIOPHILIC DESIGN INSPIRATION: Botanical motifs; Age, Change and the Patina of Time; Sensory Variability and Complementary Contrasts.
The Malta overprint is available on select Aspecta One Shipwright and Alpine Ridge woodgrains.
Sustainability
The company has fully committed to transparency in the resilient flooring industry and has achieved Declare labels for the entire ASPECTA commercial range. Additionally, the company has issued Health Product Declarations (HPDs) for its full line of Aspecta products. HPDs are comprehensive transparency documents that provide health-related information for product ingredients. Declare labels and HPDs are recognized by the USGBC for credit under LEEDv4 and can also contribute towards credits under the WELL Building Standard.

Safety is just as important as sustainability and transparency, and Metroflor employs a rigorous testing program to ensure the safety of its products. Testing is conducted at the ISO 9001 and 14001-certified factories at which the products are made, at Metroflor's satellite offices throughout Asia, and at accredited, third-party laboratories spread around the world. Product certification is just as extensive: Metroflor holds a NSF/ANSI 332 Gold certification for Aspecta One.