Marsh & McLennan Agency's Ceiling Project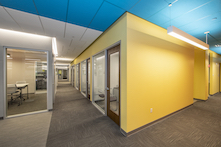 Marsh & McLennan Agency LLC's new Upper Midwest regional headquarters in Minneapolis reflects the company's energetic culture and colorful brand identity. Finding an existing office in an ideal location, the agency turned to Mohagen Hansen Architecture | Interiors to renovate and custom-design the 46,000-square-foot workspace. The design team relied on Rockfon to help create the office's unique ceiling designs and optimize the employees' acoustic experience.
A full-service insurance, retirement and risk management firm, Marsh & McLennan Agency is consistently recognized as a Top Workplace with a culture focused on hiring, developing and rewarding exceptional employee talent. With respect to the company's culture and services, the interior ceiling systems help create a lively, collaborative experience balanced with private, quiet focus areas.
"The requirement to bring together many employees in different departments in a relatively small space meant that a great number of efficient workstations would account for the lion's share of the office layout," explained Mohagen Hansen. Marsh & McLennan Agency "wanted to make sure that this requirement could be carried out in a dynamic, engaging space, rather than an endless sea of boring cubes."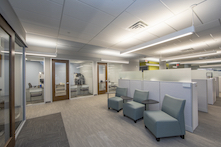 Representing the agency's brand, the interior design palette showcases a clean white and neutral gray background with blue tones to match the corporate identity. Colorful artwork and energizing accent walls in bold magenta and lime, lemon and orange complement the shades of blue.
Rockfon provided acoustic stone wool ceiling panels with finished-to-match metal suspension systems in three colors: a bright Curacao blue, a light Fresh blue and a smooth white. Rockfon® Infinity™ Perimeter Trim also was finished to match the two blue colors and display a neat, crisp edge. White stone wool ceiling baffles for the café added to the project's complete ceiling solution. In total, Architectural Sales of Minnesota, Inc. installed 38,600 square feet of ceiling panels from Rockfon.
Assisting with wayfinding and visual definition, ribbons of blue ceiling panels sweep through the interior corridors designating areas by department and functionality. Uniform 2-by-4-foot grid patterns further distinguish the blue stretches that purposefully interrupt the white ceiling spans.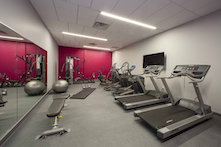 For the majority of the office interior, 2-by-4-foot white ceiling panels were installed in an offset, staggered, "subway tile" layout. This masonry-like pattern can be seen in the open offices, common areas, fitness center, large conference rooms and the training room.
Framed with recessed alcove lighting, the training room's ceiling accommodates numerous light fixtures, air registers, wi-fi relays, video projectors and speakers. In the plenum, above the ceiling tiles are concealed the electrical wiring, HVAC ductwork, fire suppression system and other hidden infrastructure.
Square 2-by-2-foot white ceiling panels were selected for the enclosed private offices, small group rooms, focus rooms, the café and vending market, and the boardroom. In the boardroom, the white, square panels and even grid pattern enhance the sense of stability and comfort, and the dark blue feature walls add an air of formality.
Exterior windows offer outdoor views and natural light in the boardroom and adjacent conference room. The white ceiling panels reflect up to 86% of light from their surface, helping extend the daylight more deeply into the office's core. Parallel to the windows on the opposite side of the rooms, glass interior walls allow for greater transparency, connection and a shared experience.
Without sound-absorbing materials, such as stone wool ceiling panels, hard surfaces like glass, concrete and wood reflect soundwaves and can make it more difficult to understand one another. Helping optimize acoustics in commercial interiors, Rockfon stone wool ceiling panels achieve Noise Reduction Coefficients (NRC) as high as 0.95 to improve speech intelligibility, decrease noise levels and promote privacy.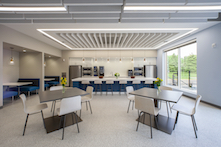 Where the blue Rockfon® Color-all™ ceilings are installed, the panels' high acoustic absorption decreases the distance that sound travels in open spaces and down corridors, and improves speech privacy. The white Rockfon Tropic® ceiling panels in the enclosed boardroom, conference rooms, training room and private offices, work in conjunction with the walls, carpet, padded furnishings and other absorptive surfaces to dampen sound. In the café, free-hanging stone wool baffles support a good acoustic experience in the dining area, while presenting a distinctive aesthetic element welcoming coworkers to a communal table.
When fewer people are distracted by noise, their concentration, accuracy and satisfaction improve, contributing to a healthier and more productive workplace.
Marsh & McLennan Agency's new offices opened in March 2020. Successfully meeting the agency's needs, Mohagen Hansen reviewed the project's objectives: "Marsh & McLennan Agency wanted to relocate within the Twin Cities and to use that opportunity to increase their space efficiency, but also the character of their office space, given the ever-important need to maintain and attract great employees and empower them to deliver the best possible service to their clients."
**
Marsh & McLennan Agency LLC; 6160 Golden Hills Drive, Golden Valley, Minnesota 55416; https://www.marshmma.com
• Architect and interior designer: Mohagen Hansen Architecture | Interiors; Wayzata, Minnesota; https://www.mohagenhansen.com
• General contractor: Rochon Corporation; Osseo, Minnesota; https://www.rochoncorp.com
• Installing contractor: Architectural Sales of Minnesota, Inc.; Brooklyn Center, Minnesota
• Ceiling systems – manufacturer: Rockfon; Chicago; https://www.rockfon.com
• Photographer: Randy Hoepner Photography
About Rockfon
Rockfon is part of the ROCKWOOL Group and is offering advanced acoustic ceilings and wall solutions to create beautiful, comfortable spaces.
At the ROCKWOOL Group, we are committed to enriching the lives of everyone who experiences our product solutions. Our expertise is perfectly suited to tackle many of today's biggest sustainability and development challenges, from energy consumption and noise pollution to fire resilience, water scarcity and flooding. Our range of products reflects the diversity of the world's needs, while supporting our stakeholders in reducing their own carbon footprint.
Stone wool is a versatile material and forms the basis of all our businesses. With approximately 11,000 passionate colleagues in 39 countries, we are the world leader in stone wool solutions, from building insulation to acoustic ceilings, external cladding systems to horticultural solutions, engineered fibers for industrial use to insulation for the process industry, and marine and offshore.
###
Sustainability
Exterior windows offer outdoor views and natural light in the boardroom and adjacent conference room. The white ceiling panels reflect up to 86% of light from their surface, helping extend the daylight more deeply into the office's core.
Notes
CREDIT: Randy Hoepner Photography, courtesy of Rockfon
The ROCKFON business is a leading provider of acoustic stone wool and metallic ceiling solutions and suspension systems. With the acquisition of Chicago Metallic Corporation Inc., the ROCKFON business provides customers a complete ceiling system offering combining stone wool and specialty metal ceiling panels with Chicago Metallic suspension systems. ROCKFON complete ceiling systems are a fast and simple way to create beautiful, comfortable spaces.
Easy to install and durable, they protect people from noise and the spread of fire, while making a constructive contribution toward a sustainable future. The ROCKFON business is a subsidiary of Denmark-based ROCKWOOL International A/S, the world's largest producer of stone wool products.
ROCKWOOL International A/S is listed on the NasdaqCopenhagen stock exchange. More than 10,000 people in 37 countries are employed within the ROCKWOOL Group.
In North America, the ROCKWOOL Group operates under the name ROXUL Inc, ROCKWOOL®, ROXUL® and ROCKFON® are all registered trademarks of ROCKWOOL International A/S.
For more information, visit www.rockfon.com.