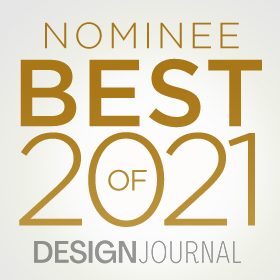 Coil Collection is a breakthrough new line of light fixtures made from up-cycled waste. After over two years of painstaking internal research & development, the collection of distinct matte fixtures were presented to the world. Unexpected from a fixture produced through additive manufacturing, the Coil Collection​ ​looks and feels like pottery, spun and handcrafted. 
The Coil Collection addresses a central question the industry is facing: What can we do with waste? Through an extensive engineering process to understand the possibilities of a base material, Coil Collection pushed the boundaries in collaboration with other polymer companies across the US to tap into a collective expertise and drive for innovation. Ultimately, a unique method was chosen of pelletizing waste materials to be repurposed through additive manufacturing. 
But, in design, recycling and sustainable innovation cannot be the sole motivator—the product has to be attractive, too. Sorting the colors of the waste through new technology, the company came up with a monochrome black and white palette for the pendants. Material science and design came together in the creation of the collection, aiming to create a material that looks unique, custom, and unlike previously seen upcycled materials. 
Coil Collection consists of 7 classic pendant shapes focused on distinct geometry and curvature with a matte finish, giving the fixtures a pottery-like quality. The elegant shapes deliberately define the endless options afforded by additive manufacturing to create a curated product with a distinct feel. Departing from what is expected from a 3D printed item, the form is textured, tactile, and unique. The textured finish, inherent to the additive manufacturing process, is complemented by subtle algorithmic adjustments to achieve a handmade, one-of-a-kind feel. This tactile, spun quality prompted the new collection's name: Coil.
Sustainability
Coil Collection is assembled with a PVC-free cord and is finished with a TGIC-free powder coat for the canopy and the interior hub. This new launch firmly places Coil Collection at the forefront of recycled lighting with responsible manufacturing and sustainability. Through trial and testing of an optical sorter, an extremely flexible model is used. Plastic scrap is ground, chipped and granulated, and then put through the sorter, where the machine can detect non-clear chips and reject them to a separate bin, leaving only the clear, usable chips. For an alternate method, the machine can also accept white, gray, and clear chips as step one and then remove white and gray as step two. This allows the production of a milky, off-white to be used in the black fixtures and purely clear chips to be used in the white fixtures.

Following this step, color and texture are added into the materials, after which they are re-extruded. The materials are then dried and loaded into a 3D printer where they're melted and extruded into their final forms—seven unique shapes. Setbacks were experienced with the tuning and programming of machinery, but ultimately the recipe and process were tweaked to get the resulting matte, pottery-like pendants now available.

Awards
Interior Design HIP Award Winner
Architect's Newspaper Best of Products Honorable Mention - Decorative Lighting
Gray Awards Winner - Design for Good Category
Core 77 Notable Furniture & Lighting Award
AP Product Innovation Awards winner
Dezeen Awards longlisted
CFYC Awards
Fast Company Innovation by Design Awards finalist
Core 77 honoree
DARC Awards Shortlisted for Kit: Decorative

LightArt, a 3form company, is a custom lighting fabrication and design studio in Seattle's Georgetown neighborhood. The work of the Seattle studio is an ever-evolving tale of innovation, creative exploration, and endlessly variable custom lighting creations. From the sleek geometry of the forward-thinking LA2 line, to the organic elegance of our custom chandeliers, LightArt has a unique, handmade lighting solution to meet your needs.
Specialties
Custom Lighting, Heat-forming Plastic, LED Lighting, and Handmade Sculptures